HYPRO HV14 Forwarder Trailer – a real heavy duty forest trailer
HYPRO HV14 Forwarder Trailer is recognised in the market as a solid, high quality trailer with a fantastic stability throughout the construction. When HYPRO HV14 was produced, the trailer was thoroughly tested under a range of tough working conditions. After the test period, it was clear that the trailer maintained the highest standards and had proven exceptional in several respects.
Go to product info & technical data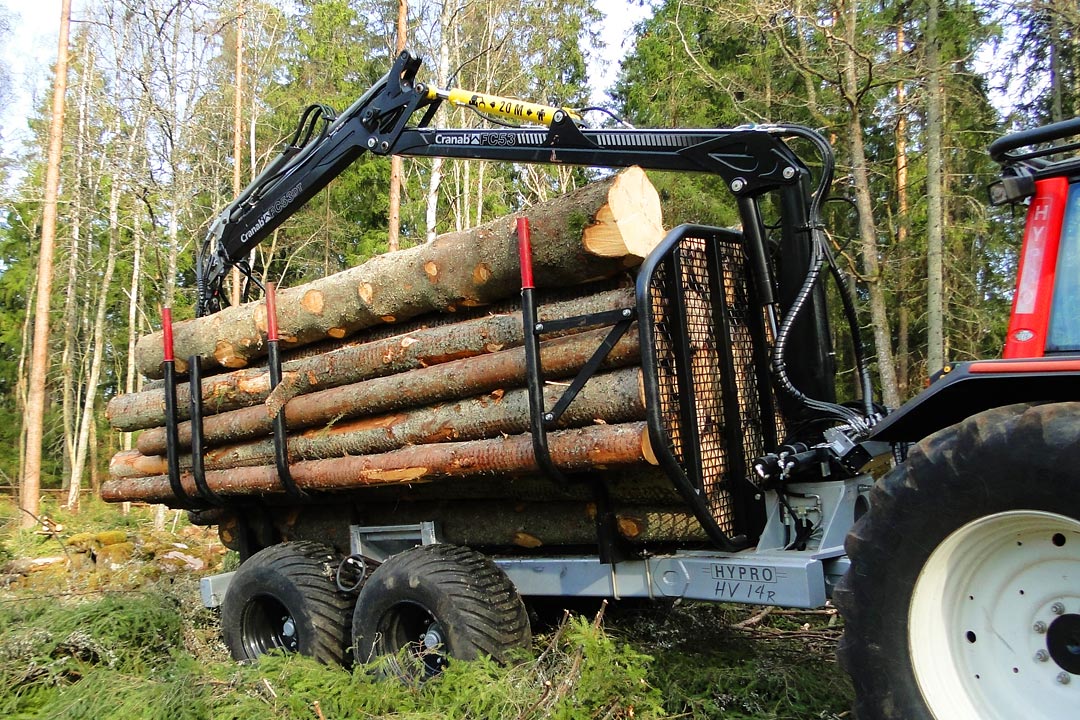 HYPRO HV14 Forwarder Trailer
The HYPRO HV14 has a very sturdy frame structure for a forest trailer, big wheels that provide high ground clearance (70 centimetres) and low ground pressure – something that gives it a great competitive edge in terms of accessibility in rough terrain. The construction is double frame type, which among other things makes the trailer very stable during crane work. For example, the trailer is stable in normal conditions without the need for any support legs, saving working time, avoiding unnecessary wear and reducing overall weight. The front gate/grill consists of a beam construction and robust crenelated mesh which, in combination with slewing house cylinders positioned low down, provide by far the best load overview available for crane work.
Choose between hydraulic hub motor drive (2WD or 4WD) or Robson roller drive. The advantage of hub motor drive is that it enables protection to be used against skidding (chains) on the driving wheels, while the advantage of roller drive is that there is always drive on all four wheels (4WD) at a good value investment, so the trailer always endeavours to climb over/up out of the obstacle, regardless of the direction in which you are driving.
The trailer has a bogie with up to 22° oscillation capacity for excellent handling in highly demanding terrain, which also contributes stability when driving.
The trailer has fixed bunks as on an ordinary forwarder but these can also be changed to moveable bunks by the simple removal of a few bolts. The central bunks are easy to move, so the position can be flexibly adapted to the type of forwarding to be performed.
The HYPRO HV14 has articulated steering with double steering cylinders that are well protected. The load capacity is 14 tonnes and the weight on the trailer is approx. 3 tonnes. We can offer several different cranes for the rig, including from the manufacturers Kronos and Palms, with ranges all the way up to 10 metres. The rig is then manoeuvred with the HYPRO+1 control system via Canbus with HYPRO's mini-joysticks (EHC) and Danfoss CAN control boxes. The system has presets for up to three different operators where a number of different settings can be stored for each operator in relation to crane steering. For example, the driver can change the joysticks' hysteresis curves, ramp times, MIN/MAX speeds, balance and invert (turn) the direction for all crane functions etc. The mini-joystick system together with HYPRO+1 Canbus control provides high class, professional driving performance. When a Kronos crane is selected there is also crane tip steering (SBC – smart boom control) available via xCrane's control system as an add-on.
If the tractor's hydraulic capacity is not sufficient, the forest trailer can be supplemented with its own hydraulic system of either open pump type or variable load sensing (LS).
HYPRO HV14 Forwarder Trailer is a powerful, high quality trailer with a well thought-out design for the working conditions that a forwarder trailer is subject to throughout the world of forestry.
Krono's crane alternatives
Palms crane alternatives
Technical data
Gross weight:
18 tons
Loading capacity:
14 tons
Loading area, bunks:
3.6 m²
Loading area, gate:
3.3 m²
Length:
5.50 m / 6.25 m
Width:
2.38 m
Length of loading area:
3.80 m / 4.55 m
Max crane reach:
9.4 m
Number of bunks, standard:
3
Additional bunks, incl. lengthening:
1
Wheels with strengthened rim:
· 500 / 60x22.5
· 600 / 50x22.5
· 700 / 40x22.5
Hydraulic disc brakes:
2
Hydraulic wheel motor running:
2
Cylinders for beam steering:
2
Steering ability:
+/-48°
Ground clearance:
70 cm
Weight:
2500 kg / 2800 kg
Would you like to know more about HYPRO HV14?
Fill in your information here and then press "Contact me" and one of our sales representatives will call you as soon as possible to help you further and answer your questions about our products.